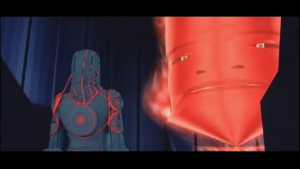 Welcome to the automatic society. We all knew that machines were going to take our places in the workforce, however gradually, doing the work that we humans didn't want to do. The list of what we didn't want to do kept growing, though, and soon the computers were doing jobs that no one ever expected them to–like running the world, for example. It's quite a bit different from the Robot Revolt–we gladly handed over the reins. For some people, it's a paradise, where no one has to do anything they don't want to do. Their days are free to be filled with fun and joy, spending all their time on friends, family, and entertainment.
Others, however, view the machine with suspicion… have we sacrificed something innately human for a life of luxury? Are people losing their drive and curiosity, becoming complacent with the status our civilization has reached? Does mankind die not with a nuclear bang, as we once feared, but a slow whimper as we become so distracted by what we've built that we cease looking outward?
Not if you have anything to say about it. It's time to free human civilization from this pampered tyranny–time to take out the Master Computer that rules this land.