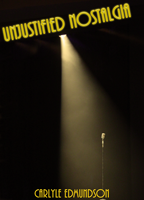 A special, exclusive short has just been released for free! Unjustified Nostalgia, a short story written just for my most loyal fans, is out now. Check out a brief summary below:
Fiona takes Lance out on a special birthday date to see one of his favorite bands perform live, but the fun's put to rest when Unjustified Nostalgia reveals that it might be their last show. After a trip backstage, the band's famed cyborg drummer has a request: help find out why the record label they were planning to sign with has suddenly gotten so aggressive. Can the band's future be saved, or will they fade out once and for all?
---
If you're already a subscriber to my mailing list, you should've received instructions on how to download it straight to your inbox last night. If you aren't subscribed yet, no problem! click here and sign up; once you confirm, you'll get the details, too, no matter when you're reading this. It's a permanent freebie! And don't worry if you haven't read The Arcology or Eidolon yet; this story's relatively free of spoilers, so if you like it, you can always go back and get caught up.
Enjoy the story, and if you have any problems or comments, feel free to let me know!