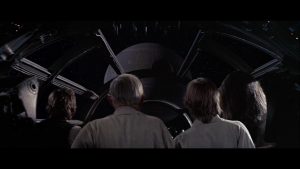 When it comes to starships, bigger is better–or so sci-fi would lead us to believe, anyway. This is most evident when it comes to movies, which often use the spectacle of a massive ship to help convey the true scale of the danger our heroes face. And these massive starships in movies are almost always under the command of the bad guys–Star Wars has The Death Star, Star Trek had the Narada, Independence Day and its alien mothership… It's rare to see the good guys with anything that can compare.
This tends to show up less for TV series than movies; budget is a big reason why, but that doesn't mean it never happens, and it tends to have a lot of impact when it does. After all, if you're used to the Enterprise-D being the big ship on the block, seeing it completely dwarfed by a Borg cube for the first time is appropriately awe-inspiring. It also tends to be a result of the series running for a long time; SG-1's Goa'uld Hatak-class motherships are pretty big, but the Ori motherships are significantly bigger, and the Wraith Super-Hive ship from Stargate Atlantis is bigger still.
Regardless of their origins, the real reason for having enormous starships is obvious: they're just so cool! So here are 4 of the biggest starships I've been able to find on TV. And keep in mind–it's starships, so they gotta be able to move. Deep Space 9, Babylon 5, etc. are stations and thus not applicable to this list.