The Arcology is Now Available Everywhere!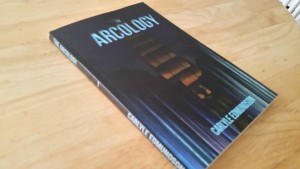 After much paperwork and hassle, my first novel, a cyberpunk detective story called The Arcology, is now available from every online retailer I plan to make it available to. It's been in the works for a long time, and I didn't give much info in the previous post since it wasn't released yet, so here's the book summary:
In the oppressive city of Kindred, circa 2052, Lance Canela tries a little too hard to fulfill the classic image of a private detective. Living in the shadow of the enormous Arcology and barely scraping by, he's happy to sit in his office all day, reliving the adventures of his hardboiled heroes from a century past. But when the wealthy Fiona, a woman he thinks is the femme fatale he's always waited for, knocks on his door, Lance gets a taste of life-or-death reality as he faces off against ruthless goons for the first time.

Shaken by the experience, Lance lays low for a few months until a new case thrusts him into the world of the super-rich high atop the Arcology, and that of the impoverished masses living at its base. In search of a missing girl with only the name "Ascended Employment" to go on, Lance must reconnect with Fiona and navigate the world of the wealthy to find her. Fiona, however, has problems of her own, and her past is more intertwined with Ascended than anyone could predict.
A cyberpunk detective story and the start of a new series, I hope that my visitors will give the book a shot and tell their friends if they enjoy it. The ebook is only $2.99, and available on Nook, SmashWords, iBooks, and more in a variety of formats. The kindle and paperback versions are available from Amazon (or directly from CreateSpace, if you want a bit more of your money to go to me). If you really want to help out, you can leave a review on any of those sites, or on GoodReads. Few things are more powerful than a positive review!
As always, thanks to all my readers and I hope you stick around. We're just getting started.