Coming Soon: The Resonance Enigma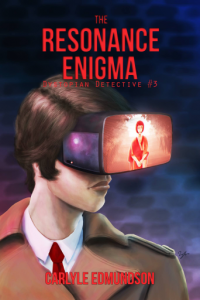 Book 3 in the newly re-branded Dystopian Detective series is now available for preorder at a special price. Check the description for The Resonance Enigma below:
"Playing a game in the real world means you're never logged out."

To find a gamer's killer, private detective Lance Canela must log in to the Augmented Reality Game, Resonance. But even in a virtual world, the machinations of the megacorps are always in motion. What secret lies within the game's servers, and how does it relate to the strange girl waiting for her murdered friend to return?
ARGs are a topic that hasn't been discussed much in sci-fi, so I've used my own experience playing games like Ingress and Pokemon Go to construct the story, which I hope will give it that feeling of authenticity that so many stories about gaming lack. Virtual reality, location-based gaming, and artificial intelligence come together to create a mystery that I think even those who aren't gamers will enjoy.
Thanks for looking, and I hope you'll give the book a chance. The previous two books, The Arcology and Eidolon, are already available if you want a headstart!