This Week in Sci-Fi–February 8-14, 2015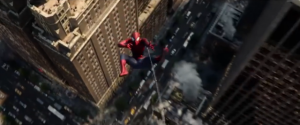 The week of Valentine's Day brings us some huge Marvel news, some big developments in other ongoing stories, and the possibility of returning characters in several different series. Plus, some things that aren't series! Remember when those were a thing? standalone movies?
Marvel kicks us off as usual this week:

In case you live under a rock and only intermittently receive stray wifi signals from your neighbor's much nicer four bedroom/three bath rock across the street, Spiderman. Marvel Studios and Sony have come to an agreement which allows Spiderman to join the MCU. Spiderman will be recast, and first appear in a Marvel Studios film (likely Civil War) before having his own film debut on July 27, 2017. We're also fairly certain they won't be bothering with origin stories this time, which will be a nice reprieve, and anyone hesitant about letting Sony develop another Spiderman film can rest easy knowing the architect of the MCU Kevin Feige will be acting as a producer.

One of the effects of this is shifting the release timeframe of the Phase 3 movies, and Inhumans is one that got pushed back a good amount. Will this affect Agents of SHIELD?

Speaking of Agents of SHIELD, it's been announced that Lady Sif will appear on the March 10, 2015 episode (second to air after its return March 3). She's supposedly going to help our heroes learn more about the Inhumans and the threat they may or may not pose with her knowledge of the greater MCU Cosmic. Remember, she has already name-dropped the Kree and several other races in her last appearance on SHIELD.
Additionally, SHIELD has cast Drea de Matteo as a Marvel Comics character Karla Gideon. Normally, that's not very interesting, but this particular character has a history with Matt Murdock. Could it be a sign of some SHIELD/Daredevil crossover? On the other hand, the interpretation of the character sounds quite different from the comics version, so it could be a case of just borrowing a name.

Star Wars Episode VII may get an early release, if JJ Abrams has his way. Currently scheduled for December of this year, Abrams wants to move the release up to the summer. Why? Because of spoilers. I think this is an honestly horrible idea; you can't beat spoilers and leaks to the market. Don't rush the film and screw it up trying.

In happier Star Wars news, Lando may be showing up in one of the later films. People were upset he's not set to be in Episode VII, but they can't cram everything in there, and Billy Dee Williams has recently reprised his role on the animated series. Who knows?

Chappie, the latest film by District 9 director Neil Blomkamp, has just been given an R rating, somewhat unexpectedly for those who've been following its development. The tone of the trailers has been inconsistent, but apparently the film actually contains a lot of fairly gory violence (a la District 9.)

And on the subject of Blomkamp, a while back he had his concept art and ideas for a potential Alien film released. Now there's word that this movie might actually get made, and Ripley may be in it. Hopefully the real one, and not some weird clone. Blomkamp seems like he has a perfect aesthetic for tackling the Alien universe, so I'd love to see his plans come to life. Can't be worse than the last few entries in the franchise…

A film adaptation of the video game series Assassin's Creed has officially gotten the greenlight and a release date. If you're wondering what Assassin's Creed has to do with sci-fi, allow me to explain: the games are presented as genetic memories resurfaced in the modern day guy Desmond, who comes from a long line of these Assassins. By using a device called the Animus, these memories are awakened and they can learn more about the Assassins and their enemies, the Templar, and the advanced tech they were fighting over. Desmond's world is pretty sci-fi as it is, but it's largely used as a framing device for the story told within the Animus (although fans have long clamored for Desmond to take up the mantle of his ancestors and have a game set in the 21st century). Will the movie retain these sci-fi aspects? It'd be pretty cool, but difficult to pull off right, and the history of video game adaptations is not promising. We'll see.
And finally, Hulu is adapting Stephen King's time travel story 11/22/63 starring James Franco. Hulu has nothing under its belt to really inspire confidence in this, and with Abrams executive producing a King story starring James Franco, that's about as mainstream as you can get. But let's give Hulu the benefit of the doubt, at least for now. After all, a time travel show can't be that bad of an idea, right? How's that 12 Monkeys thing going again, anyway?