What Could Have Been: Alphas Season 3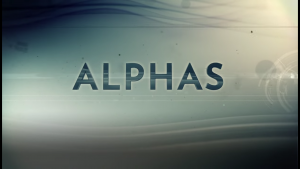 Since the end of Battlestar Galactica, Syfy has had a tough time finding a new flagship show. Continuing BSG in the form of Caprica failed, and Stargate Universe died around the same time. Defiance seemed a possible successor, but it bit the dust last year, and it's only recently that the heir apparent came to be in the form of The Expanse. In between came Alphas, a show about people with superpowers that were pretty toned down compared to the heroes dominating the big screen at the time. And much like SGU, Alphas was canceled in its second season on a notorious cliffhanger. I'll be honest; I never was much of a fan, getting bored with it after the first two episodes, but I'm not one to turn down a special request if I can fulfill it (especially since I'm not always able to). So here's what I found, from the mouths of the writers and cast, on the lost future of Alphas.
Season 2's finale ended with a device going off which was designed to kill all non-Alphas in the area and supercharge the abilities of any Alphas who were present. Many, many ordinary humans were killed, and the Alphas team was unconscious on the floor, alongside their human leader, Dr. Rosen. Did he die, or not? What happened to the team? Let's hear it from the source–the bulk of the information comes from creator Zak Penn's twitter, not long after the cancellation was announced. Much of this isn't exactly an outline so much as "what happened to X character?", so be ready.
Penn is careful to say that he's not allowed to be the authority here, but given he was a creator of the show, who better to trust? There a few more tweets (all from March 2, 2013), some of which are clearly little jokes (something about a donut conspiracy? A reference to House of Cards?) but that about sums it up. How much of this would've been in season 3? Hard to say; some of it (Kat, for example) could easily have fit in, while the rest is set too far into the future to be relevant to the next season of a TV show, barring flash forwards or time travel episodes. More likely this was just Zak Penn's way of saying goodbye to these characters, by laying out these odd destinies he'd set for them. Karnow, when asked about Alphas season 3 plans, mostly just joked, so there's not much on that front. Weirdly enough, there's apparently an entire episode of The Big Bang Theory (which I absolutely HATE) about the cliffhanger ending of this show, so you'd think that might have given enough attention to it to get a real answer, but I guess not.
This is definitely very different than what I usually find when I'm doing this research, so I wasn't sure what to make of it, but I figured, "what the hell, let's share it." You can take it as seriously as you feel it deserves. So, that said–what do you think? Let me know in the comments, or on Twitter or Facebook. At the very least, it's fanfic fodder, for those who are into that sort of thing.